BMA 2023 Population-based Ex-vivo (Brain Space 3)
Authors: Rui Gong1*, Hiroshi Abe2, Toshiki Tani2, Junichi Hata3,4,5, Ken Nakae6, Frederic Papazian1, Hiromi Masuko2, Takuto Okuno1, Hideyuki Okano3,4, Tetsuo Yamamori2, Noritaka Ichinohe2, Alexander Woodward1
1. Connectome Analysis Unit, Integrative Computational Brain Science Collaboration Division, RIKEN Center for Brain Science
2. Laboratory for Molecular Analysis of Higher Brain Function, RIKEN Center for Brain Science
3. Laboratory for Marmoset Neural Architecture, RIKEN Center for Brain Science
4. Department of Physiology (Okano Lab), Keio University School of Medicine, Keio University School of Medicine
5. Division of Regenerative Medicine, Jikei University School of Medicine
6. Exploratory Research Center on Life and Living Systems, National Institutes of Natural Sciences
*corresponding author: Rui Gong (rui.gong@riken.jp)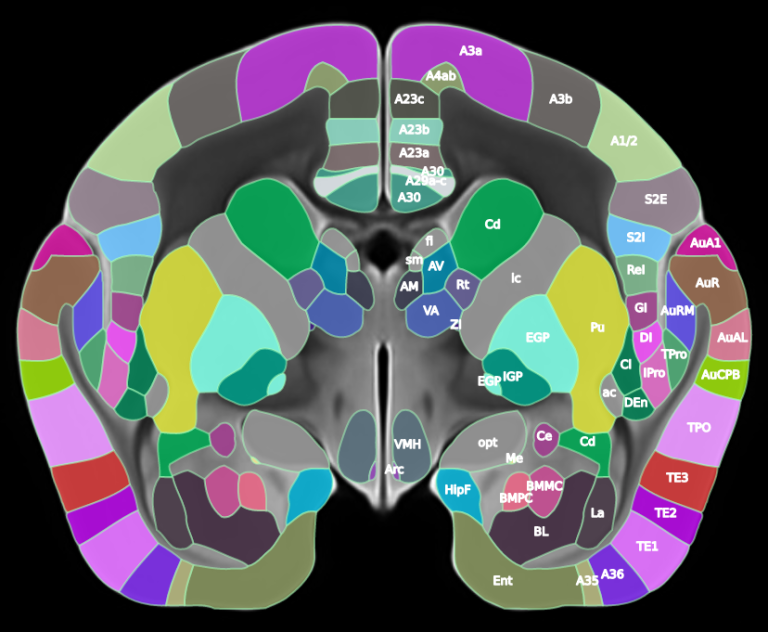 We have upgraded our Brain/MINDS 3D Digital Marmoset Brain Atlas Set to include a population-based ex-vivo brain atlas. This new atlas is constructed from N=10 complete cortical region parcellations, drawn by experts using myelo- and cyto-architecture. All data is provided in a new symmetric standard space (brain space 3), created from a large number of MRI T2WI scans (N=92).
The current version of the atlas can be viewed online here.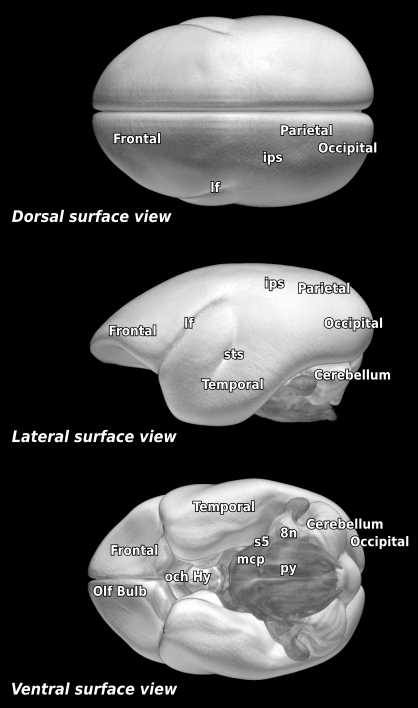 Usage:
We are iteratively improving this atlas so we currently only grant limited access to the data (viewing only). See the copyright notice below for details. In the near future all restrictions will be lifted and the data will be made publicly available under a creative common license.
Copyright:
All data derived from the Brain/MINDS Population-based 3D Digital Marmoset Brain Atlas (BMA 2023) , including the raw data itself, belong to the authors of the original work, or to any other person who may hold rights to the material in question. The data may not be used (including copied, adapted, uploaded, posted, emailed, distributed, licensed, sold, or published) except when prior written permission has been granted by the authors of the original work. Unauthorized republishing of the data is prohibited. Use or reproduction after altering the content is also prohibited. When using the contents with permission, the required copyright notice must be included. The copyright notice may not be altered or deleted.
The downloadable version is being prepared. We ask for your patience.

30-03-2023: beta release.